Sacha Inchi:

A perennial plant native to the Amazon rainforest
OptiPure®
A Single Ingredient That's High in Protein, Omega–3, Omega–6 and Omega–9
Sacha Inchi (Plukenetia volubilis L.) is a perennial plant native to the Amazon rainforest, yielding star-shaped capsules carrying leaginous seeds.
Pre-Inca civilizations highly valued Sacha Inchi crops, as can be seen interpreted on ceramic vessels found in ancient tombs. Amazonian tribal communities have been using its seeds and oil for nutrition and health.
Sacha Inchi is one of the world's richest vegetable sources of essential unsaturated fatty acids (EFAs) rich in Omega-3, and it is a gluten-free superfood. In addition, this healthy seed also contains high levels of protein, fiber and vitamins A and E.
Furthermore, Sacha Inchi plantations are a perennial crop, highly labor intensive, and are yielding seeds continuously year-round, providing an alternative source of income to many underdeveloped rural communities of the Amazon. Its rapid growth and production make it an important alternative to subsistence agriculture, illegal coca crops and unsustainable land uses.
60% protein
Contains all essential amino acids
Omega–3
Omega–6
Omega–9
High in fiber
Contains a significant amount of vitamin E
Vegan
Gluten-free
No additives
No preservatives
Mild flavor
Non-GMO
Highly soluble in water and oil
Applications in functional foods, protein powders and cosmetics
Highly stable powder
High digestibility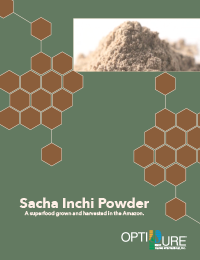 ---